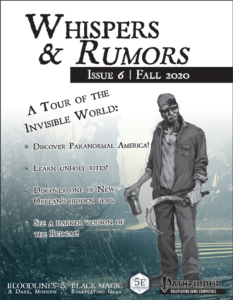 This one I am very excited about! I got do create a fictionalized version of my favorite restaurant in New Orleans with permission from the chef! Grab Issue 6 and whet your appetite to visit Gris Gris both in your game and in real life.
From the product description:
In this issue, authors Michael Azzolino, Clinton Boomer, Tim Hitchcock, Jaye Sonia, and George "Loki" Williams bring you a series of short articles that expand the lore and world of Bloodlines & Black Magic. These include:
Game Launch– Author Jaye Sonia discusses the launch of the new edition of Bloodlines & Black Magic.
Invisible Locations: Gris Gris – Award-winning game designer and NO tour guide takes readers back into the invisible heart of New Orleans and one of its open secrets. When the outsiders go out to eat – Gris Gris is where they go.(Based on the real Gris Gris in New Orleans with Chef Eric Cook's permission)
Describing the Invisible World– Author Jaye Sonia addresses patterns and describing the Invisible World.
What is Attunement?– Author Jaye Sonia briefly describes how attunement works in Bloodlines & Black Magic.
The Redcap  -This CR 3 Redcap gives Bloodlines & Black Magic (and 5e) game masters a dark, modern take on these foul fey.
Differing DCs – This short article describes how we use DCs in Bloodlines & Black Magic.
Small Towns or Big Cities – Where will you play?– This short article discusses play in rural, suburban, and urban environments.
The Seeker's Guide to Paranormal America – Developer Michael Azzolino gives you a look at one group's approach to the invisible world.
Serpents, Shadows, & Unholy Feats – A series of feats for the 1st-edition of the Pathfinder Roleplaying Game.