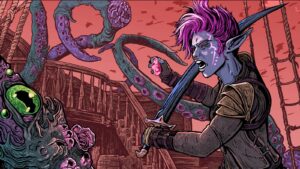 I have neglected the blog for too long, so here is a quick update (condensed) for those of you following along at home.
If you're looking for my latest RPG work check out:
The Glimmering (Modified D&D 5e) where I've been a contributing designer for the setting, adventure author (GL-2 Trial of the Blood Moon), and Pro Game Master (both online and at last Gary Con). If you decide to get in on the fun look for my tables or hit me up with a request for a particular day and time.
The Blood and Chrome Preview from Marlowe House (Cypher System) in which my first visions of an Occult, Cyberpunk New Orleans form the introduction to the setting and test drive adventure. Here's a hint, the marketers and multicoprs won…
I have started to run independent, paid games on Start Playing Games. I already have one ongoing Planescape campaign filled and am taking requests on others (ongoing or one shots). We usually play over Zoom or Discord depending on group preference.
I have a fun project with some great people that is under NDA, I hope to be able to talk about it by the end of the year.
Waiting on confirmation about some work on not one, but two cool IPs. News as I am able to provide it.
In addition I am proud to report that i just completed my first semester as Adjunct Instructor (Game Design) for the University of Cincinnati Game Lab! I had some amazingly talented kids and they created several really fun games, including a rules lite RPG.
On other fronts, I'll be honest, it's been a strain. Looking for gigs when you're over 55 is not easy, especially when 9 out of 10 of the "opportunities" or "job search" sites end up leading you into and endless loop of data harvesting scams. More than half of my copywriting gigs have evaporated as editors + AI are cheaper than editors + writers.
So, hit me up here if you want to talk to me about running a game, and through LinkedIn for inquiries about content creation and game design work. Due to current circumstances I am primarily looking for work for hire, payment upon acceptance.
I'm going to try to get into the habit of posting things I am fiddling with here on a regular basis.