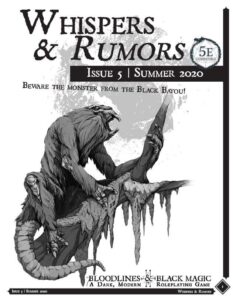 Time to revisit the world of Bloodlines and Black Magic, particularly my magnificent city of New Orleans! Grab a copy here!
From the product description:
In this issue, authors Michael Azzolino, Clinton Boomer, Tim Hitchcock, Jaye Sonia, and George "Loki" Williams bring you a series of short articles that expand the lore and world of Bloodlines & Black Magic. These include:
A New Look – An article addressing the new look of Bloodlines & Black Magic.
Piercing the Veil – This article discusses some ways to use Pierce the Veil at the game table.

The Iron Brotherhood – This article describes the villainous organization, their goals, their behaviors, and describes how game masters might use them
The Honey Island Swamp Monster – This piece presents players and game masters with a brutal CR 4 foe (5e compatible) to turn any swamp into a terrible hunting ground.
The King of New Orleans & His Royal Court (part 1) – This article, by longtime native George "Loki" Williams expands on the content covered in The Crescent City, giving game masters new material to consider when running games in the Crescent City.