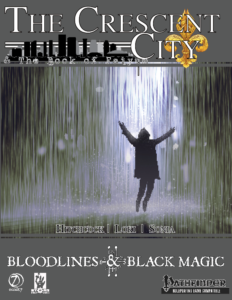 Tap, tap, is this thing on? I know I've woefully neglected this blog, but recent events demand that I get off my ass and share some news. Three big pieces of news in particular.
First of all, my debut work for Storm Bunny Studios – Bloodlines and Black Magic: The Crescent City. After decades of wanting to, I have finally given my home city of New Orleans the RPG treatment. Present day New Orleans gets a Pathfinder compatible modern horror reboot. (The core system, Bloodlines and Black Magic just garnered 5 stars _Seal of Approval + Nomination for Top Ten of 2018 from Endzeitgeist. See review. )
This one was a labor of love and a huge responsibility. This is my home and my family has been here for eight generations. I needed to make sure I got it right. Hopefully, time will prove that I did.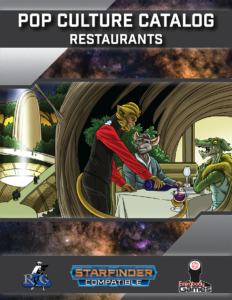 Then another debut, my first work for Rogue Genius / Everybody Games – Pop Culture Catalog: Restaurants. I love Alex Augunas' Pop Culture Catalog series so much that I hunted him down and made a pitch. This book is the result. Where prior volumes cover topics ranging from vice dens to infosphere sites, this one is all about food (which will surprise no one who knows me).
From upscale food synthesizers and food pods to delivery services and the best dining establishments in known space, I've got you covered on the culinary front.
I loved getting to play with the fandom rules for Starfinder. I think they add a lot of fun options and also give depth and role-playing opportunities in a way that is both elegant and seamless.
Third, a book that has been out for a few months in pdf is finally hitting print. City of 7 Seraphs from Lost Spheres Publishing is arriving in the mailboxes of the Kickstarter backers even now. This is one of the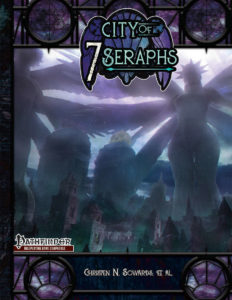 finest volumes I've ever had the pleasure to contribute to.
As someone with a massive Planescape and Spelljammer background working on the official fan sites I was thrilled to be able to not only work on this planar metropolis but also to create the multiplanar docks district.
Project Creator/Developer Christen N. Sowards assembled an incredible team for this love letter to planar gaming. I had the privilege of sharing a byline with Kate Baker, Wolfgang Baur, Clinton Boomer, Savannah Broadway, Robert Brookes, Tytiana Browne, Matt Daley, Scott Gladstein, Thilo "Endzeitgeist" Graf, Sasha Lindley Hall, N. Jolly, Michael Lefavor, Colin McComb, Ron Lundeen, Richard Moore, Andrew Mullen, Jessica Redekop, David N. Ross, Michael Sayre, Jaye Sonia, Todd Stewart, and Brian Suskind.
What an amazing trio of things to announce at once. I'm stunned by the sudden bounty of this hitting at once! Here's to an increased production schedule! I've got more in the pipe, including more Pop Culture Catalog products in the near future!
Thanks for reading! May your 20s be both natural and frequent!