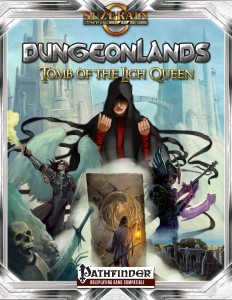 Well reviews are now in hand for all three volumes of the Dungeonlands series from Savage Mojo. My first shot at playing line developer as well as designer, which has been both more hair raising and more rewarding than expected. I am pleased to say that Endzeitgeist likes them! Since he is THE reviewer in the Pathfinder space this rocks my socks off. Check out the reviews by following these links (and you can click the book covers in this post to buy copies should you feel the urge):
I do have to mention Machine of the Lich Queen in particular. That was the first full book where I did all the rules design, and did so on a tight schedule during a time of personal chaos and upheaval. Getting five stars on that is especially meaningful on a personal level.
It was a dizzying ride, slaving away in the statblock mines and building up insane levels of sleep deprivation, but it looks like it was worth it. A truly massive mega dungeon inspired by the classic S series (Tomb of Horrors, etc.) and it all culminates in over 200 pages worth of multiplanar odyssey! Despite losing sanity points due to the pace of production, it was a joy to bring this into existence. I smile at the thought of the evil GMs out there using it to test the mettle of their players!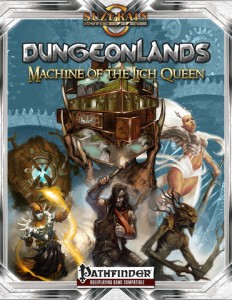 I am exceptionally proud of these books, and incredibly thankful to have worked with such a talented team. Just look at this rogues gallery.
Rules-smithing for Pathfinder was done by a wonderful array of demented souls. I was not I alone that created the mechanics (except on Machine where I was solo).  Jason Allard, Richard T. Balsley, Paris Crenshaw, G'Andy, and Vladimir Presnyak did the original work on Tomb, while I did some redevelopment during the revision process. Palace had my own team (The Avengers!) in place: Matt Medeiros, Richard Moore (who also acted as developmental editor giving us that extra polish), Andrew Hoskins, Pastor Allan Hoffman, Brendan LaSalle (creator of X-Crawl), and my dear friend Monte Reed (who made his print debut with this book)!
Authors Jason Allard, John Wick, Richard Balsley, Kevin Andrew Murphy, Darren Pearce, and Suzerain creator Miles M Kantir gave me the gilded words of true bardic quality to work from.
The ferocious array of illustrators included, but was not limited to, Aaron Acevedo, Chris Bivins, Nicholas Cloister, Jessica Cox, Dennis Darmody, Jason Engle, Gail Pearce, Bien Flores, Chris Malidor, Jim Pavelec, Alida Saxon, and Carly Sorge brought their words and our stats to life for the eye.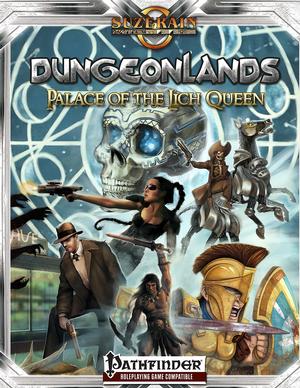 And, of course, much praise must be heaped at the feet of the layout and design people – Aaron Acevedo, Mike Chaney and Alida Saxon. Damn, you made it all look so good!