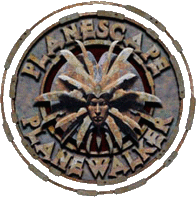 Planewalker is the official fansite for the Planescape setting produced originally by TSR, then by Wizards of the Coast. For over a decade the website has provided a hub for the international fan community including, but not limited to the following:
High activity community forums
A wiki
A vast collection of articles and extra material, generated both by staff and the user base.
Rules conversions for 3.x , 4th ed and other systems.
Publication of pdf supplements and conversions.
George has been one of the strongest supporters of Planewalker's community and development since he came on board with us. He's our leading edge of community initiatives and always has bigger and brighter ideas for the coming years. His work with Planewalker over the years has kept the site alive and the community engaged, we really couldn't have done it without him.
George always bring a mountain of enthusiasm and energy to any project he's working on, as well as a healthy dose of rational social consciousness. His design work on Planewalker was exemplary and his passion for roleplaying shines through in all his work. Not just creative but also amazingly well-organized, George is clearly someone you want working on your side.
Visit Planewalker Today!
Come, wander the forms, raid the wiki, and discover the wonders of the planes! Planewalker awaits with darks aplenty, cutter!
The Planewalker Repository
A map of Sigil, spreadsheets of all published NPCs, dozens of fazines and supplements! Visit the Planewalker Repository on Dropbox to grab all our free supplements!